More info on Volkswagen Arteon
► VW Arteon long-term test ► We live Volkswagen's biggest ► Regular daily driver diary updates 
Month 1 of our Volkswagen Arteon long-term test review: the introductions
Volkswagen reckons it's 'an avant-garde gran turismo with svelte fastback styling'. My colleague Tim Pollard calls it a 'coupaloon' (and desecrates the English language in the process). And on our first trip out in the Arteon, I told my wife 'It's like an Audi A5 Sportback' – which drew a blank look from someone already exasperated with my attempts to explain the visual differences between a Porsche Boxster and Porsche 911 Turbo Cabriolet. 
The VW Arteon is actually a replacement for the old Passat CC – but don't let that put you off. The current Passat is really rather good, and the Arteon wades into the much-diminished Mondeo market with bloody good looks, a wheelbase stretched to almost three metres, and all the interior quality and elitist appeal a German badge offers above its common-or-garden competitors. 
Prices start at just over £31k for a 1.5-litre with 148bhp, and go up to 40 grand if you want an Arteon with four-wheel drive and a detuned Golf R engine. As much as we do, we've settled for a 2.0 turbocharged petrol (this is a post-Dieselgate world) putting 187bhp through the front wheels. With another £195 spent on VW's ESP-based, diff-apeing XDS system, I tell myself it's a stealth Golf GTI.
Except for the colour – that's not stealthy at all. VW calls it Turmeric Yellow Metallic, a £595 extra which looks great on the Arteon's chiselled lines – and unlike my old black Focus RS, I'll never lose it in an underground car park. 
The Focus RS – or more specifically, its appalling ride quality – is also the reason we've gone for Volkswagen's £820 Dynamic Chassis Control, aka adaptive dampers that can cycle through Comfort, Normal and Sport modes. It's familiar VW fare, but on the Arteon there's now a Bentley-esque slider control so you can go even softer or even firmer. Currently I'm deep in the OAP end and so comfortable.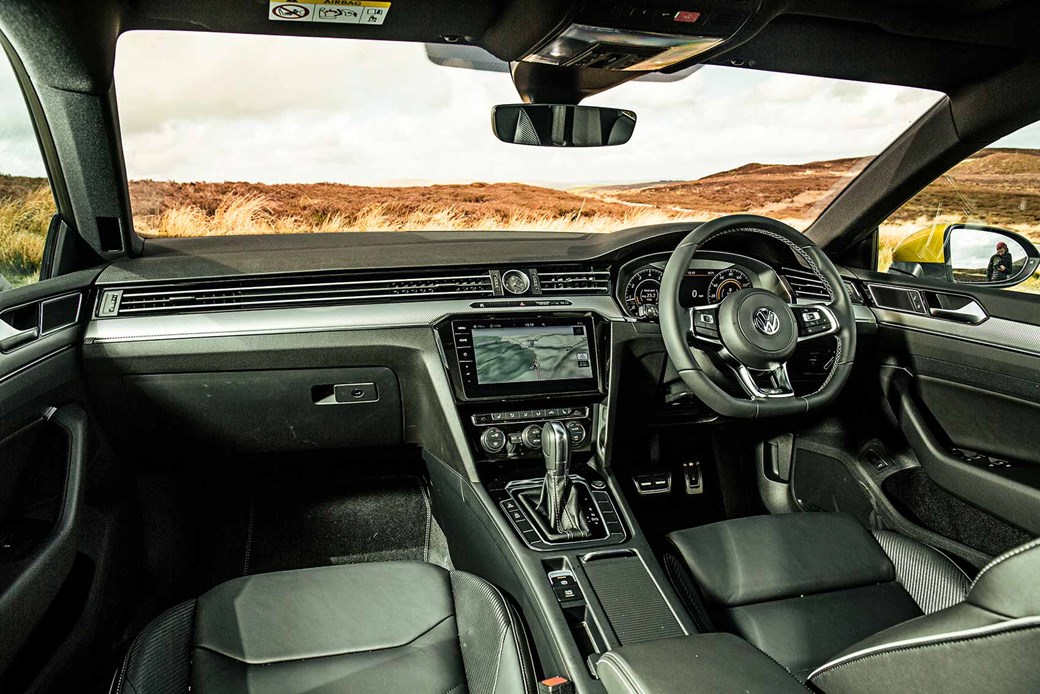 Ours is in R-Line spec, which means a beefier bodykit and inch-bigger alloys (now 19s), while inside there's nappa leather. Although the wheelbase is not quite on a par with a Mercedes S-Class, it's almost as roomy in reality. We've opted against 20-inch wheels, or spending four figures on a stereo upgrade, or adding any more safety tech, as the Arteon already has adaptive cruise control and lane assist. But we have spent £895 for VW's top-notch 9.2-inch touchscreen, and £935 on a panoramic sunroof that disappointingly seems no bigger than any other sunroof. 
We'll get into the other options over the coming months, but for now it's off to Wales. Had I still been in the Focus RS I'd have been dreading the 500-mile round trip but salivating at the prospect of a thrash through Snowdonia. This way around, I'll enjoy the entire trip. I'm happy with that. 
By Ben Pulman
Browse more of our long-term test reviews
Logbook: VW Arteon
Price £34,380 As tested £40,600 Engine 1984cc 16v turbo 4-cyl, 187bhp @ 4180rpm, 236lb ft @ 1500rpm Transmission 7-speed DSG, front-wheel drive Performance 7.7sec 0-62mph, 149mph, 135g/km CO2 Miles this month 348 Total 564 Our mpg 40.2 Official mpg 47.1 Fuel this month £45.97 Costs None